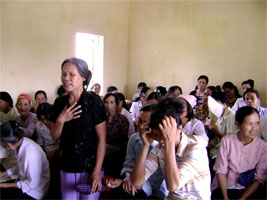 CED has been working with Tan Minh women since 1996.
Long history of successful cooperation shows that the way of working has been sustainable. The key to sustainability in a development project is to get the local people committed.
Tan Minh women have been involved in the credit saving activity for over 10 years. They have managed to grow the capital five times bigger since the beginning. That has been only possible by having 100% return rate.
CED has provided the group a sewing course and training on cooperative, Fair Trade and other relevant matters. Loans have been provided for the sewing machines.
Taking a loan for a sewing machine is a big financial commitment for an individual.
After the trial phase 2007-2008 the cooperative is running the Soundly Sleeping Dragon sleeping bag business independently.
CED is only supporting them in marketing and sales abroad, which would be impossible tasks for the cooperative to do due to lack of language skills.
Farming is still the main source of income for the group. When the business grows more women will get involved in the sleeping bags making. In 2010 a loan will be available for three more sewing machines. Until 2010 seven sewing machines have been in use by 14 sewers. Being single the women need time for household tasks and farming. The production is organized in such way that no one is sewing more than six hours per day.
The cooperative is working towards Fair Trade certification.
In order to qualify for Fair Trade group the handicrafts making has to be the main source of income for the cooperative members. That will still take some years but cooperation with Craft Link has started. Craft Link is Vietnam's Fair Trade partner.
To learn more about Fair Trade, click here.