Soundly Sleeping Dragon sleeping bag is made of 100% silk.
It's small and light, you can fit it into your pocket!
Where to use?
- In hotels, youth hostels, huts and on boats
- As sleeping bag in warm climates
- As sleeping bag liner
- For overnights at friends or as a guest sheet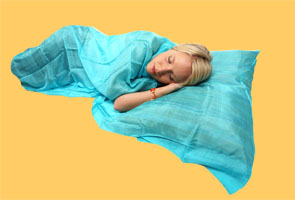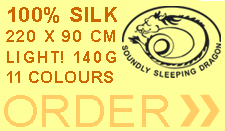 Features
-Side opening
-Pocket for pillow
-Double stitched
-Size 90 x 220 cm
-Weight 140 g
Silk -is soft on skin and responds to temperatures – cool in summer and warm in winter.
Adds approximately 5c to the temperature rating of your sleeping bag.
Only 42 euros delivered to your home!